Grateful Dead Hawaiian Aoxomoxoa Metal Sign Poster Psychedelic Rick Griffin RARE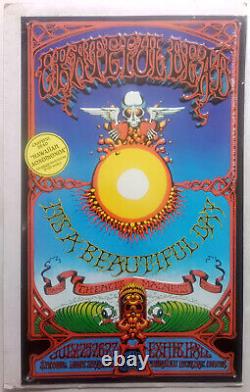 Description : This rare metal reproduction of the psychedelic era's most classic poster is new & plastic-sealed, backed by cardboard. The vivid-colored graphics are raised. The round yellow hype sticker is on the outside plastic wrap. The sign measures about 17 inch by 10 inch. There are small pre-drilled hanging holes at each corner.
It's unopened but on the back of the sign is Grateful Dead Merchandising/Sony Signatures. Slight wear to outside plastic. Will be sent backed with stiff cardboard.
See our store listings for more cool stuff. The original Hawaiian Aoxomoxoa poster was created by Big Five artist Rick Griffin for a series of Grateful Dead shows that were to be held July 25-27, 1968 at the Honolulu International Center's Exhibit Hall. Rick Griffin's AOXOMOXOA is a double palindrome, meaning not only does it read the same forward and backward, but also each letter in the word is also reversible, and when flipped horizontally also reads the same either way. "AOXOMOXOA" was an idea given to Rick Griffin by Grateful Dead lyricist Robert Hunter. The possible meaning of the word; the "AO" means "Alpha and Omega, " the sacred seed syllable "OM" is in the center, "X" is a mysterious number to be solved for.
Others have speculated that this is an Aztec or Mayan word. Beyond the word is the actual imagery created by Rick Griffin. Griffin's incredible sun, an egg surrounded by sperm wriggling to get in, burning in a clear blue sky, endlessly radiating light and warmth above, warming the earth below, where the dark womb of the earth receives that light and also endlessly brings forth life.
Here is the mystery of life and death drawn out in psychedelic imagery worthy of Carlos Castaneda and the mysterious world of Don Juan. The very top third of the name "Grateful Dead" spells out "We Ate The Acid". Will be sent well-packaged worldwide.