Grateful Dead Mfsl Audiophile 45 RPM & 33&1/3 Limited Edition Numbered Rare Set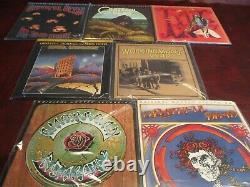 The Grateful Dead RARE COLLECTION OF AUDIOPHILE MFSL 45 RPM & 33 & 1/3 NUMBERED MASTERPIECES- ONE AND ONLY SET FOREVER. Half-speed Production and Mastering by Mobile Fidelity Sound Lab specially plated and pressed on 180 grams of High Definition Vinyl. Mastered from the Original Master Tape and Manufactured by Mobile Fidelity Sound Lab on the GAIN 2 ULTRA ANALOG SYSTEM - Special static free/dust free Inner Sleeve - Heavy Duty Protective Packaging with Liner Notes. This LP captures the incredible realism and presence in the listening experience without the annoyance of surface noise, distortion, hiss and disc warpage.
The depth and dimension of the music is delivered back to you with all the dynamics and richness of the live recording session. With Mobile Fidelity, you will come as close as possible to hearing the three-dimension quality of the music just as the artist intended it to be. And of course cutting at 45 speed is the audiophile choice for the highes quality. A 45-RPM record is sonically superior to a 33 1/3 variety because of a 35 percent reduction of groove curvature compared to a 33 1/3 cut.. It means that while you can't fit as much music into a 45, the undukations of the groove that your cartridge has to track are stretched over a longer distance.
For these reissues, the music was displaced onto four sides, meaning each side contains about 10 minutes of music. This is the ultimate reissues. The only way you'll get closer to this classic music is to listen to the master tapes or have been in the studio with the artist originally during the actual session.
Grateful Dead Workingmans Dead on Numbered Edition 180g 45RPM 2LP Set from Mobile Fidelity. Sublime, Stripped-Down 1970 Americana Classic Steeped in Country, Blues, and Folk. Youve Never Heard This Roots-Based Marvel Sound Better: Mastered from the Original Master Tapes and Given Extra-Wide Grooves on 45RPM LP. Ranked #264 on Rolling Stones List of the 500 Greatest Albums of All Time: Airy Harmonies, Simple Structures, Concise Arrangements, and Burnished Tones Anchor Songs. Workingmans Dead defies the erroneous belief that the Grateful Dead never attained brilliance in the recording studio.
Forever prized for natural sonics, Workingmans Dead attains audiophile reference status courtesy of this first-ever 45RPM version. As flawless as any rustic album ever released, the 1970 set now brims with soaring harmonies, organic execution, intertwined textures, and uncomplicated structures that furnish the songs a transcendence associated with timeless American music.
Colorful, relatable characters seemingly torn from working-class histories and old-time fables inhabit the narratives. Mastered from the original master tapes and pressed on 180g LPs at RTI, Mobile Fidelitys numbered edition of this period-defining recording renders the stripped-down fare with immense detail, rich airiness, and reach-out-and-touch-it realism. Longtime Deadheads and newcomers alike will hear significantly more information, experience wider and deeper soundstages, and become swept away by incredible tonal and vocal balancestraits made possible by the formats wider grooves.
Instrumental melds and refined accents, such as guest David Nelsons nimble fills on Cumberland Blues, are part of a larger whole that gives the impression you are witness to the worlds coziest campfire session. Frontier tales and refined performances further this feeling.
The first Grateful Dead album to eschew cosmic jams and complex signatures, Workingmans Dead stakes its existence to great songs, homespun warmth, and bare essentials. Its wistful, relaxed stateimmediately apparent via the innocent album-opening invitation Will you come with me? On Uncle Johns Bandowes to the circumstances and conditions surrounding its creation.
At the time, the Dead owed a considerable financial debt to Warner Bros. And were hobbled by a recent drug bust and financial scandal. Most significantly, the band was recovering fromand reacting tothe tragic events of the Altamont Music Festival and symbolic end of the peace and love era. As such, Workingmans Dead acts as a retreat from chaos and uncertainty, its songs emblems of simpler times and pleas for compassion in the face of hardship.
Lyricist Robert Hunter said he aimed to capture the vintage elements of late 1940s country-and-western jukebox singles as well as old blues classics. In that vein, fare such as the Bakersfield-leaning Cumberland Blues, pastoral ballad Dire Wolf, and bluesy Easy Wind hit the mark.
Leader Jerry Garcias occasional pedal-steel underpinnings arrive as a bonus. Of course, aside from the economical concision and thematic consistency, the genius of Workingmans Dead resides in the groups expressive harmonies. Taught by Crosby, Stills and Nash, the Dead produce live air blends of multi-part vocal harmonies that provide the foundations of nearly every track. Uncle Johns Band, High Time, New Speedway Boogie (with the iconic refrain One way or another/This darkness has got to give referencing the ill wind that greeted the new decade), and the radio favorite Casey Jones practically float on the ensembles communal vocal beds.
Mobile Fidelitys 45RPM edition renders these invigorating, refreshing, and engaging characteristics in three-dimensional sound that transports you to the event. Recordings dont get more lifelike. Workingmans Deadan iconic, ageless record that drew countless listeners to the bands unique style because of its accessibility and charmdeserves nothing less. Secure your numbered copy of this masterwork from Music Direct today! There is more inner detail and texture, more clarity and verisimilitude, on these MoFi reissues than on early original pressings, which sound thinner and grainier by comparison. The SACDs sound more like very good analog than mere digital, but the immediacy of the 45rpm LPs is startling. Marc Mickelson, The Audio Beat. Grateful Dead Workingmans Dead Track Listing.
The Grateful Dead's From the Mars Hotel on Numbered Limited Edition! Strictly Limited to 4,000 Numbered Copies! 180 GRAM 45 RPM 2LP from Mobile Fidelity! Wave That Flag: Grateful Dead's From the Mars Hotel Spotlights Elementary Strengths of Each Band Member and Features U. Blues, " "Unbroken Chain, " "China Doll, and More.
Mastered on Mobile Fidelity's World-Renowned Mastering System and Strictly Limited to 4,000 Numbered Copies: 180g 45RPM Vinyl 2LP Set Boasts Dynamic, Smooth Sound. You've just checked into the Mars Hotel. The Wall of Sound, the greatest PA system ever constructed, is freshly built and ready to go. Phil Lesh is busy experimenting with a low-frequency concept known as Earthquake Bass. " Jerry Garcia is smiling, fresh from blaring a tongue-in-cheek anthem titled "U.
Blues that serves as both an irresistible rallying cry of pride and ironic commentary. And the Grateful Dead's interplay continues to wow, peaking on "Unbroken Chain, " the most obvious example yet of the group's shared chemistry and individual talents. Yes, we're certain you'll enjoy your stay. In the lobby, you'll find decoratively funky Scarlet Begonias.
Do we need mention the music, performances, and sights sound and look better than ever? Mastered on Mobile Fidelity's world-renowned mastering system, pressed at RTI and strictly limited to 4,000 numbered copies, Mobile Fidelity's 180g 45RPM vinyl 2LP set of From the Mars Hotel comes on as both an audiophile delight and Deadhead's dream. Vastly improving upon the long-out-of-print 1984 MoFi version that currently commands upwards of hundreds of dollars on the aftermarket, the new version takes advantage of enhancements to the cutting system, pressing process, and mastering gear. MoFi's engineers have taken every precaution in honing the sound and feel of the Dead classic.
And you cannot argue with the extra information within the wider 45RPM grooves. Originally made in a modern facility dubbed Studio A - a large cinderblock room that Columbia Records specially outfitted for Simon and Garfunkel, who, ironically, split up before they could use it - From the Mars Hotel was primarily recorded live to 16-track machines. After laying down the basic structures, a few overdubs got added, most notably in the form of John McFee's rustic pedal-steel guitar accents on one track and Ned Lagin's spacey synthesizer passages on another. Always prized for its superb fidelity, the effort possesses an uncanny sense of airiness around the vocals, brilliant microdynamics, excellent transients, reference-caliber balance, accessible tonalities, and the distinctive aura of a real band playing in a defined space.
With Keith Godchaux's spry quick-finger piano notes adding a barroom blues feeling and wife Donna Godchaux's soaring background vocals bringing up the rear, the Dead puts a vibrant spring into the step of contagious fare such as the rousing U. These songs stand as some of the loosest black-inspired music the Dead composed. True to the era's burgeoning mix of soul, R&B, psychedelic rock, and dance, the collective places its own memorable stamp on the day's popular fusion. Yet From the Mars Hotel earns its stripes as a must-own album for Deadheads and traditional listeners alike because of the manners in which the six band members communicate, bond, react, and create. Singing lead on the high country of "Pride of Cucamonga" and interlocking centerpiece "Unbroken Chain" while threading the record's golden tapestries with silvery bass lines that cradle, shift, and anchor the arrangements, Lesh turns in a heroic individual performance. Each of his mates maximize their own techniques: Garcia lending equal doses of sincerity and salaciousness; Bob Weir hunting, pecking, and jabbing guitar phrases into the flux; drummer Billy Kreutzmann demonstrating jazz-like flair, flawless timing, and rhythmic wit. It's no wonder that many Deadheads, if forced to choose, would select "Unbroken Chain" as the premier example of third-era Dead interaction. Relatively concise, eminently soothing, and named for a crumbling hotel down the street from Studio A, From the Mars Hotel forever dispels the tired notions that the Dead never succeeded in the studio after leaving Warner Bros. And aimlessly drifted (the longest track here clocks in at a scant 6:45). Book your reservation at the Mars Hotel by ordering your copy today. You'll check in and never want to leave. Strictly Limited to 4,000 Numbered Copies.
Production and Mastering by Mobile Fidelity Sound Lab. Specially Plated and Pressed on 180 grams of High Definition Vinyl. Special Static Free - Dust Free Inner Sleeve. Grateful Dead American Beauty on Numbered Edition 180g 45RPM 2LP Set from Mobile Fidelity.
The Most American Folk-Rock Ever Made: Indelible Harmonies, Spare Playing, and Gorgeous Textures Surround Masterfully Crafted Songs. Close Your Eyes as the Dead Serenade You in Your Room: Mobile Fidelity Edition of American Beauty Epitomizes Realistic Space, Vocals, Instrumentation, and Ambience. Ranked #261 on Rolling Stones List of the 500 Greatest Albums of All Time: Includes Truckin, Sugar Magnolia, Friend of the Devil, Ripple. American Beauty is the most perfectly realized, superbly played, and openly natural folk-rock record ever released. They dont make albums like this anymore, but thankfully, Mobile Fidelitys extraordinary 180g 45RPM 2LP set allows you to experience this 1970 masterpiece with unrivaled intimacy, realism, detail, and perspective. The Dead might as well be sitting on a Persian carpet right in your living room. The pinnacle of the Deads studio output, American Beauty lives up to its nameas well as that of the American Reality ambigram on the iconic cover.
Airy vocal harmonies blow like fresh breezes. Strummed acoustic guitars amicably intermingle with plaintive percussive beats. Warmth, relaxation, and poignancy envelop the performances and create sensations of bliss, peace, and honesty. Songs flower with majestic melodies and emotionally direct lyrics. Its a rare album that makes one feel, restores ones faith, and renews ones appreciation for all life offers.
Mastered from the original master tapes and pressed on 180g LP at RTI, this deluxe analog set possesses seemingly limitless dynamics, reference-grade presence, and expansive soundstages. The seamless, effortless integration of the groups vocals has always been a high point of American Beauty, and when you hear it here, youll want every record you own to sound half as good. Every members distinctive singing resounds with tube-like clarity; the intended expressionism is as plain as day. Instruments, too, resonate in glorious Technicolor.
The supple tension of Phil Leshs bass lines, charismatic timbres of Jerry Garcias pedal-steel fills, and interwoven dialogue between the pianos and percussion are rendered with lifelike scale and tone. Made just months after its companion release, Workingmans Dead, the San Francisco legends second 1970 masterpiece furthers the former works close-knit relationship between country and folk while adding extra rock and bluegrass currents. Understated amplified passages, graceful melodies, layered singing, and old-time string flavorsincluding mandolin work from masterful guest David Grismanbestow the material with easygoing, comfortable vibes. Again taking advantage of the best songwriting of Robert Hunters career, the Dead turns in its most collective studio performance, with every individual contributing equally and focusing on nothing but the songs at hand. Indeed, Garcia doesnt even indulge in a single guitar solo on the record.
A majority of fare lacks any significant instrumental breaks. The Dead recorded the foundations (drums, bass, acoustic guitars) of nearly every track live, which helps explain why American Beauty sounds so powerfully rich and clear.
Coupled with the bands personal reflections of the circumstances surrounding themBob Weirs parents had died, Garcias mother and Leshs father were in the process of passing, Ron Pigpen McKernans health was in declinethese characteristics combined to yield a purity of heart that exceeds that managed by Dead peers (and roots revivalist leaders) The Band and Bob Dylan. From Garcias breathtaking gospel-laden homage to his mother (Brokedown Palace) to Leshs healing salve in the form of the groove-based Box of Rain, from Weirs jaunty and free-wheeling summer escape Sugar Magnolia to McKernans eloquently simple homespun plea Operator, all the way to the closing autobiographical anthem Truckin, American Beauty feels like the warm, spirit-infusing embrace of a loved one after a long journey away.
Secure your numbered copy of this iconic record from Music Direct today! The SACDs sound more like very good analog than mere digital, but the immediacy of the 45rpm LPs is startling, even after hearing the SACDs.
Grateful Dead American Beauty Track Listing. MFSL 33 & 1/3 SECTION. Grateful Dead Skull & Roses on Numbered Edition 180g 2LP Set from Mobile Fidelity. 1971 Double Live Album Presents Legendary Bands Expansion Into Country Rock, Traditional Rock and Roll, and Roots Folk.
Mastered from the Original Master Tapes: Ultra-Quiet Pressing Features Spacious, Transparent, Illuminating, and Organic Sound. Prototype Document of the Deads Second-Era Sound and Lineup: More Accessible, Concise, and Stripped-Down Performances. Includes Many Longtime Staples of the Bands Live Repertoire: Playing in the Band, The Other One, Me and My Uncle, Bertha, Wharf Rat, and More.
The Grateful Dead took to the start of the 1970s as a different albeit equally thrilling and eminently broader-reaching band than the ensemble that revolutionized psychedelia in the late 1960s. Made evident in the back-to-back studio releases Workingmans Dead and American Beauty, the group increased its mastery of harmony-driven roots songs distinguished by catchy signatures, more concise arrangements, and impossibly organic textures. Captured live in spring 1971 and featuring not a single repeated song from Live/Dead, the expressive performances on Skull & Roses document this stylistic expansion in unsurpassed fashion. The double-LP constitutes the no-limits sound of an iconic band coming in to its own.
Mastered from the original master tapes with the utmost care, and part of the labels unprecedented Grateful Dead reissue series, Mobile Fidelitys numbered-edition 180g 2LP version of Skull and Roses presents the downsized Dead lineups most memorable songs in previously unimaginable fidelity. From the moment Jerry Garcias guitar pick touches a string at the outset of the scampering Bertha, the improvements are palpable: Life-size images, airy vocals, subterranean bass lines, incredibly spacious separation, tube-amp warmth, faithful tones, and balanced dynamics lead a crystal clear path to the music and the Deads extraordinary collective spark. Originally captured on a 16-track recorder, the songs brim with rarified levels of you-are-there realism and reach-out-and-touch immediacy.
Notorious for its exacting sound demands, the Dead achieves the kind of instrumental and frequency-range transparency that many dedicated audiophiles spend their entire lives dreaming about. Skull and Roses is a kernel of sonic truth. Such is the pressings degree of detail and insight that listeners will be able to debate what gauge guitar strings the members are using as they savor every last breath, riff, and snare hit.
Thankfully, the bands perfectionist attitude toward sound doesnt literally transfer over to its music approach. Loose, lively, playful yet earthy, focused, and committed, the Dead crackles with boogie-based moxie, greasy soulfulness, and swaggering bravado, each note seemingly exploding like tiny pieces of magic that hover in the air and cast hypnotic spells. The groups embrace of leaner, tighter, more melodically incisive songs and the swaying rhythms that accompany the approach directly relate to two key lineup changes: the temporary departure of drummer Mickey Hart and permanent leave of keyboardist Tom Constanten. As a result, the Dead toured as a quintet, with Bill Kreutzmann the sole percussionist and Garcia, bassist Phil Lesh, guitarist/singer Bob Weir, and keyboardist/vocalist Ron Pigpen McKernan rounding out the barer-bone cast.
Not only do Garcia, Lesh, and Weir show tremendous growth as singers, the Dead as a whole further invest in folk, country, R&B, rock, and blues traditionsvia Garcias sweeter tones and Bakersfield picking, Weirs cowboy twang and increasingly confident counterpoints, Kreutzmanns hang-fire beats and scurrying grooves, Leshs weighty sway, McKernans foreshadowing spiritual timbres. Inspired covers of tunes by Merle Haggard (a frisky and defiant Mama Tried), Willie Dixon (the comfortably rumbling, boozy honky tonk Big Boss Man), Kris Kristofferson (the dusty, peaceable tale Me and Bobby McGee), Chuck Berry a supercharged romping Johnny B. Goode, and Buddy Holly (Not Fade Away, segued into Goin Down the Road Feeling Bad) announce the Deads intent to make practically every style of contemporary American music their own, and in the processto paraphrase the great Bill Grahambe the only ones that did what they did. A similar attitude informed the records genesis.
The group originally lobbied to call the album Skullfuck before the record label, at an allegedly chaotic meeting at the infamous Hyatt Hotel, dissuaded the humorous ploy. While technically named Grateful Dead, the album is commonly known as Skull and Roses due to Alton Kelly and Stanley Mouses now-iconic cover art. Trivia buffs might know the latter is based on an illustration for an antique edition of the Rubaiyat of Omar Khayyam. The 1971 effort also has another huge claim to fame: It included the message DEAD FREAKS UNITE.
Those simple lines, and the invitation to respond, created of the Deadhead subculture and biggest fan list in history, utterly pioneering the industry overnight. Get it allthe dazzling graphics, dizzying performances, deft sonicsby ordering your prized collectible edition of Skull and Roses from Music Direct today! Grateful Dead Skull and Roses Track Listing.
"Bertha" (Jerry Garcia, Robert Hunter) 5:27. "Mama Tried" (Merle Haggard) 2:42. "Big Railroad Blues" (Noah Lewis) 3:34.
"Playing in the Band" (Bob Weir, Hunter) 4:39. "The Other One" (Bill Kreutzmann, Weir) 18:05.
"Me and My Uncle" (John Phillips) 3:06. "Big Boss Man" (Al Smith, Luther Dixon) 5:12. "Me and Bobby McGee" (Kris Kristofferson, Fred Foster) 5:43. Goode (Chuck Berry) 3:42. "Wharf Rat" (Garcia, Hunter) 8:31.
"Not Fade Away"/"Goin' Down The Road Feeling Bad" (traditional) 9:14. Grateful Dead Live/Dead on Numbered Edition 180g 2LP Set from Mobile Fidelity. Precedent-Setting 1969 Release One of the Five Best Live Albums Ever Recorded.
Mastered from the Original Master Tapes: Invite the Dead Into Your Living RoomYou Wont Believe How Good This Pressing Sounds. Pinnacle First-Era Grateful Dead Record Captures Best of Both Worlds: Bands Improvisational and R&B-Based Blues Sides on Display. Ranks #244 on Rolling Stones List of the 500 Greatest Records of All-Time. If you want to experience why on any given night the Grateful Dead was the best live band going in 1969, you need to hear Live/Dead.
If you want to understand how personal chemistry, symbiotic interplay, and otherworldly energy can lead to a near-extinct onstage combination of soulfulness, surprise, and suspense, you need to hear Live/Dead. Ranked by Rolling Stone on the magazines list of the 500 Greatest Records of All Time. Universally acclaimed by both Deadheads and non-devotees alike. The perfect synthesis of the legendary groups first-era vital characteristics and cosmic faculties.
A gorgeously recorded sonic artifact and more, Live/Dead is outright essential. Mastered from the original master tapes with the utmost care, and part of Mobile Fidelitys unprecedented Grateful Dead reissue series, this numbered-edition 180g 2LP version of Live/Dead raises the iconic albums lofty prestige even higher.
Recorded at three San Francisco concerts in early 1969 with a mobile 16-track studio, the 7-song set has always possessed excellent fidelity in large part because of a mic splitterspecially created for the projectthat fed both into the PA system and record inputs, allowing the engineers to capture the shows without any loss in quality. Seldom have venue dimensions, acoustic properties, spatial characteristics, low-frequency resonances, amplifier tonalities, soundstage balances, and vocal timbres been so faithfully reproducedor enhanced. Mobile Fidelitys version elevates Live/Dead into the revered pantheon of the most respected reference audiophile LPs.
Close your eyes and youre dead center, ten rows back in two of the Bay Areas most beloved halls: Fillmore West and Avalon Ballroom. The degrees of realism are utterly staggering; no, you dont need any, ahem, chemical assistance to facilitate the transcendent experience. Renowned for contagious communication between its members, the Dead operates on a interstellar plane throughout Live/Dead. Witnessing the ebb-and-flow manners in which guitarist Jerry Garcia, bassist Phil Lesh, and drummer Billy Kreutzmann respond to one anothers passages and blur the lines between jazz, psychedelia, and rock disciplines.
Meandering jamming this is not. Solos burn, rhythms thunder, bass lines roll, melodies twist. Dark Star remains the touchstone for whats possible in epic frameworks, with notes climbing, darting, and skittering amidst a dark canvas seared with mystic vibes and punctuated with blossoming instrumentals. Along with the inseparable pairing of St.
Stephen and The Elevena sequence that highlights the raw gospel beauty of Garcia, Lesh, and Bob Weirs harmonies as well as breathtaking tightrope seguesthe explorative excursion epitomizes the Deads progressive inclination, cohesion, and ability. Live/Dead isnt all about the art of the improvisation. R&B-driven electric blues comes courtesy of organist/vocalist Ron Pigpen McKernan, still in excellent health, and pianist Tom Constanten, who departed the band shortly after these shows occurred. The latters counterpoint playing and spiritual accents shadow the shivering ballad Death Dont Have No Mercy and underscore a rousing, percussive-laden marathon take of Turn on Your Love Light. Call-and-response segments, spontaneous exchanges, and joyous merry-making doesnt come any better.
Live/Dead is a landmark in every sense; it remains the first 16-track album released. Its impact is still felt today. From the illustrative cover art (hint: the word Dead subtly spells out Acid on the back cover) to the gatefold graphics and the extraordinary sonics, Mobile Fidelitys 180g 2LP edition ranks among the labels best releases. Secure your numbered edition by ordering from Music Direct now! Timbral colors on the MoFi release are decidedly richer and more saturated than on the original, with vocals and guitars being particular beneficiaries.
Bass is deep, superbly defined and forceful, drums have greater clarity and authority, and hall dimensions are exceedingly vivid. The sensation of a great electric band playing in a real space has never been better captured on a recording, though the Dead themselves would equal this excellence on other occasions with much more fully realized technology at their disposal. Paul Bolin, The Audio Beat. Grateful Dead Live/Dead Track Listing.
"Dark Star" (Garcia, Hart, Kreutzmann, Lesh, McKernan, Weir, Hunter) 23:18. Stephen (Garcia, Lesh, Hunter) 6:31. "The Eleven" (Lesh, Hunter) 9:18.
"Turn On Your Love Light" (Joseph Scott, Deadric Malone) 15:05. "Death Don't Have No Mercy" (Reverend Gary Davis) 10:28.
"Feedback" (Constanten, Garcia, Hart, Kreutzman, Lesh, McKernan, Weir) 7:49. By Grateful Dead 0:35. Grateful Dead WAKE OF THE FLOOD on Numbered Edition 180g from Mobile Fidelity.
For the Grateful Dead, Wake of the Flood ushered in an exciting new era of change and potential. The band elected to depart Warner Bros.
And start its own record label. A new lineup emerged after keyboardist/vocalist Ron Pigpen McKernan passed away and the group landed jazz-schooled pianist Keith Godchaux and his wife, Donna, who gave the ensemble a new option in the form of a dedicated backing vocalist. Having road-tested a batch of new originals, the collective eagerly sought to expand its broad musical palette in the form of a large-scale studio LP that involves horn sections, violin, and choral figures. Diverse, unique, and mellow, 1973s Wake of the Flood overflows with the luminous vision, stellar songwriting, and ensemble reciprocity made possible by its historical circumstances and inspired creators. Let Me Sing Your Blues Away.
Weather Report Suite: Prelude / Part I / Part II [Let It Grow]. Grateful Dead IN THE DARK on Numbered Edition 180 GRAM from Mobile Fidelity. Grateful Dead In the Dark on Numbered Edition 180g LP from Mobile Fidelity. The Dead Will Survive: 1987 Album Gave Band New Lease on Life, Best Studio Effort in More Than a Decade.
Mastered from the Original Master Tapes: Jerry Garcia and Bob Weirs Dynamic Magnified, Bluesy Riffs Properly Textured. In the Dark Contains Touch of Grey: Deads Only Top 40 Hit Entire Album Boasts Continuity, Flow, and Cheer of a Memorable Live Show: After More Than a Decade, Group Finally Tallied Another Studio Masterwork. In the Dark will forever be known as the Grateful Dead record that propelled the iconic band into the mainstream conscious more than two decades after its career began. Thanks to undeniable hooks, sing-a-long refrains, and shrug-it-off sentiments on the survivalist anthem Touch of Grey, the Dead was exposed to new generations of listeners and, in the process, became celebrity figures that packed football stadiums with fans. But In the Dark remains significant for many other, more important reasonsJerry Garcias stunning recovery from a coma, Garcia and Bob Weirs compelling dynamic, and an impeccable batch of tunes.
It also stands bar-none as the sextets finest output since 1975. Mastered from the original master tapes and part of the labels unprecedented Grateful Dead reissue series, Mobile Fidelitys numbered-edition 180g LP of In the Dark presents the Deads long-overdue breakthrough in attention-grabbing fidelity. Even in an era in which the most revered artists succumbed to the days prevailing sound (namely, slick textures and artificial keyboard-heavy production that evoked the feel of Saran-Wrap) the band remained obstinate in its allegiance to revealing fidelity. As it happened, the Dead recorded most of the record live onstage at Marin Civic Auditorium using the then-newly introduced Dolby SRa technology that permitted astounding instrumental separation, even when playing live.
The groups inimitable blend now sounds better, more immediate, and natural than ever. Everything including the clip-clop of cowbells, Mickey Hart and Billy Kreutzmanns rhythm-devil grooves, Phil Leshs supple bass lines, Garcias sweetened timbre, and Brent Mydlands pastel-shaded keyboard melodies converges into a delightfully balanced, animate entity. The music possesses tube-like warmth and glow, and the bands renewed vigor and, particularly, Garcias mellifluous guitar tones and rippling passages, come across with irresistible immediacy, heft, and vitality. Several effectsthe revving of a motorcycle engine, which moves with precise imaging across an extremely wide soundstage and various synthesizer interjections among themhighlight lyrical turns and add winking humor.
In the Dark is a late-80s anomaly: A great and great-sounding rock album that isnt the least bit dated. While theres no single secret behind the records success and its position as the greatest studio achievement of the Deads last two decades, In the Dark boils down to the essential ingredients of great songwriting and the kind of loose, spirited, frolicking chemistry that the sextet so often demonstrated onstage. Weir and Garcia engage in a friendly competition of gamesmanship. The rhythm guitarists cleverly cynical Hell In a Bucket is one of the toughest, nastiest songs in the Deads catalog; Throwing Stones, his image-laden treaty on greed, politics, responsibility, and the environment, benefits from a complex arrangement sent up with marching bridges and spidery guitar work. For his part, Garcias haunting slow blues West L.
The white-bearded legend clearly has fun throughout, and, obviously energized by a second chance on life, pours his soul into the music. Mydlands performance and presence aren't to be overlooked. Equipped with the vocal harmony potential of a choir of angels, his poignant backing singing on Black Muddy River aches with beauty.
Similarly evocative, his lead on the hobo country-blues Tons of Steel evokes equal parts move-on sympathy and regrettable loss. It can be strongly argued that his piano lines and right-hand fills throughout constitute the most valuable the Dead ever received on a record. Chalk them up to an integral part of an album on which every star aligned, good fortune prevailed, and the Dead finally achieved the widespread recognition it had long been overdue.
The original pressing was mastered DMM, uncredited, at Masterdisk. But this Mobile Fidelity reissue is much better. It loses none of the original's spaciousness and transient clarity while sounding richer, fuller, more, dynamic, more three dimensional and depth-charged on bottom. The transient dynamic accents will have you jumping out of your skin if not your seat.
Grateful Dead In the Dark Track Listing. "Touch of Grey" (Garcia, Hunter) 5:47. "Hell in a Bucket" (Barlow, Weir) 5:35.
"When Push Comes to Shove" (Garcia, Hunter) 4:05. Fadeaway (Garcia, Hunter) 6:39. "Tons of Steel" (Mydland) 5:15. "Throwing Stones" (Barlow, Weir) 7:18. "Black Muddy River" (Garcia, Hunter) 5:58.
& TYPE IN GRATEFUL DEAD INTO THE SEARCH FIELD WITHIN OUR STORES SECTION AS YOUR PERSONAL CODE AND ALL INDIVIDUAL TITLES + INFORMATION WILL APPEAR. Collectors Alert : Many of these Vinyl Titles will never be available again.
This means that this specific title is now out of print forever and there are very few remaining is sealed condition. This title is going to skyrocket in value & price over the next few months. So Don't Miss Out on being one of the last people to own this outstanding pressing. This is one the last pressing you will ever see at this price.
The nicest thing you can do for your stylus and your ears. The ultimate record -- the way music was meant to be heard and of superior quality for any Audiophile. You should never pass up the opportunity to upgrade your collection.
They're each very limited in their pressings and disappear with extraordinary quickness from the vinyl market. This causes prices to skyrocket because once they are gone, they are gone forever!
Don't second-guess yourself with this chance to upgrade your collection because before you know it, the opportunity will have passed forever. FACTORY SEALED OUT OF PRINT PRODUCT is IRREPLACEABLE and therefore NOT RETURNABLE. Because of Postal Regulations in following countries -- U. (England, Ireland, Wales and Scotland), SOUTH AMERICAN COUNTRIES, QATAR, PHILIPPINES, SRI LANKA, ISRAEL, RUSSIA, MEXICO and MALTA. The item "GRATEFUL DEAD MFSL AUDIOPHILE 45 RPM & 33&1/3 LIMITED EDITION NUMBERED RARE SET" is in sale since Wednesday, May 20, 2020.
This item is in the category "Music\Records". The seller is "mymusicfix2" and is located in Lake Forest, California. This item can be shipped worldwide.
Country of Manufacture: United States
Duration: LP
Speed: 33 RPM
Record Size: 12"
Edition: Collector's Edition
Genre: Rock
Special Attributes: 180 - 220 gram
Record Label: Mobile Fidelity Sound Lab
Release Year: 2012
Style: Country Rock