Grateful Dead Rare 6 Lp Strange Trip Box Individually Number+fillmore&more Live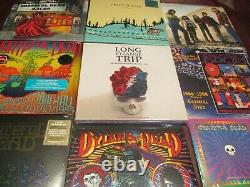 GRATEFUL DEAD LIVE COLLECTION OF 9 TITLES WITH 24 PIECES OF VINYL + BOOKLET & LIVE CD BONUS. STARTS WITH THE TREMENDOUSLY RARE - THE GRATEFUL DEAD LONG STRANGE TRIP COMPLETE 6 LP BOX SET - THIS IS THE ORIGINAL LIMITED EDITION NUMBERED TO 3000 WORLDWIDE AND OUT OF PRINT FOREVER STARTS THIS COLLECTION OF LIVE GRATEFUL DEAD SET.
THE GRATEFUL DEAD LONG STRANGE TRIP COMPLETE 6 LP BOX SET LIMITED EDITION TO 3000 NUMBERED BOX SETS WORLDWIDE WITH OVER 80 MINUTES OF BONUS TRACKS. Long Strange Trip is a documentary film about the rock band the Grateful Dead. It premiered on January 23, 2017, at the Sundance Film Festival. It had a one-night only nationwide screening on May 25, 2017, and a week-long limited theatrical release in New York and Los Angeles starting on May 26, 2017. The film became available for streaming on Amazon Video on June 2, 2017.
[1][2][3][4][5]. Long Strange Trip was directed by Amir Bar-Lev, and has a running time of almost four hours.
[6][7] Martin Scorsese was one of the executive producers. Justin Kreutzmann, the son of Grateful Dead drummer Bill Kreutzmann, was one of the producers. The film features newly conducted interviews with living band members and friends including Bob Weir and his wife Natascha, Mickey Hart, Bill Kreutzmann, Phil Lesh, John Perry Barlow, Donna Godchaux, Dennis McNally, Barbara "Brigid" Meier, Nick Paumgarten, Steve Silberman, and Alan Trist. A soundtrack album was released on May 26, 2017.
The documentary's soundtrack album Long Strange Trip contains songs compiled from various live and studio recordings by the band, many of which had been previously released. It was released on May 26, 2017.
The longer version of the album was released as a six-disc vinyl LP on August 4, 2017, in a limited edition of 3000 copies ONLY WORLDWIDE. Title Writer(s) Originally released Recorded Length. "Death Don't Have No Mercy" Reverend Gary Davis Live/Dead Fillmore West, San Francisco, CA, 3/2/1969 10:31. Stephen Jerry Garcia, Phil Lesh, Robert Hunter Live/Dead Fillmore West, San Francisco, CA, 2/27/1969 6:41.
"Uncle John's Band" Garcia, Hunter Workingman's Dead 1970 4:46. "Dark Star" Garcia, Mickey Hart, Bill Kreutzmann, Lesh, Ron McKernan, Bob Weir, Hunter previously unreleased Fillmore East, New York, NY, 2/14/1970 23:51. "Easy Wind" Hunter Workingman's Dead 1970 5:01.
"Candyman" Garcia, Hunter American Beauty 1970 6:16. "China Cat Sunflower" > Garcia, Hunter previously unreleased Château d'Hérouville, Hérouville, France, 6/21/1971 5:09. "I Know You Rider" traditional, arranged by Grateful Dead previously unreleased Château d'Hérouville, Hérouville, France, 6/21/1971 5:54. "Morning Dew" Bonnie Dobson, Tim Rose Europe'72 Lyceum Theatre, London, England, 5/26/1972 11:43. "He's Gone" Garcia, Hunter Sunshine Daydream Renaissance Faire Grounds, Veneta, OR, 8/27/1972 8:52. "The Music Never Stopped" Weir, John Perry Barlow One from the Vault Great American Music Hall, San Francisco, CA, 8/13/1975 5:32.
"Scarlet Begonias" > Garcia, Hunter Cornell 5/8/77 Barton Hall, Cornell University, Ithaca, NY, 5/8/1977 9:53. "Fire on the Mountain" Hart, Hunter Cornell 5/8/77 Barton Hall, Cornell University, Ithaca, NY, 5/8/1977 15:09. "Althea" Garcia, Hunter Go to Nassau Nassau Coliseum, Uniondale, NY, 5/16/1980 8:32. "Touch of Grey" Garcia, Hunter In the Dark 1987 5:51.
Fantasy > Jim Capaldi, Steve Winwood, Chris Wood previously unreleased Sullivan Stadium, Foxboro, MA, 7/2/1989 7:06. "Hey Jude" John Lennon, Paul McCartney previously unreleased Sullivan Stadium, Foxboro, MA, 7/2/1989 3:59.
"Ripple" Garcia, Hunter American Beauty 1970 4:09. "Brokedown Palace" Garcia, Hunter American Beauty 1970 4:06. "Playing in the Band" Weir, Hunter Europe'72: The Complete Recordings Beat-Club, Bremen, West Germany, 4/21/1972 9:48. "Eyes of the World" Garcia, Hunter Dick's Picks Volume 31 Roosevelt Stadium, Jersey City, NJ, 8/6/1974 18:35.
Stephen > Garcia, Lesh, Hunter Cornell 5/8/77 Barton Hall, Cornell University, Ithaca, NY, 5/8/1977 4:47. "Not Fade Away" > Buddy Holly, Norman Petty Cornell 5/8/77 Barton Hall, Cornell University, Ithaca, NY, 5/8/1977 16:20. Stephen Garcia, Lesh, Hunter Cornell 5/8/77 Barton Hall, Cornell University, Ithaca, NY, 5/8/1977 2:04. "Dark Hollow" Bill Browning Reckoning Warfield Theatre, San Francisco, CA, 10/7/1980 4:04.
"Stella Blue" Garcia, Hunter previously unreleased Zoo Amphitheater, Oklahoma City, OK, 7/5/1981 10:14. "Days Between" Garcia, Hunter previously unreleased Madison Square Garden, New York, NY, 10/18/1994 13:56.
Ron "Pigpen" McKernan organ, harmonica, percussion, vocals. PLUS THESE BONUSES OF LIVE DEAD TITLES FOR COLLECTORS ARE. The Grateful Dead PORTLAND MEMORIAL COLISEUM 5/19/74 Limited edition 180-gram SIX LP box set! Remastered by Jeffrey Norman from the original analog master tapes.
Only 7,500 copies printed worldwide! The Dead's complete Portland Memorial Coliseum show from May 5, 1974. Grateful Dead was the ultimate cult band, creating a self-styled universe all their own. By this point in 1974, the Deads Wall of Sound was fully operational, and they had had a few shows to really fine tune it.
But the band was still discovering all the new sounds that they could create by taking advantage of the lush opportunities that the Wall of Sound provided. Although there are some mix problems in this show, you can hear the band, like kids with a new toy, experimenting throughout and, quite often, finding some intense new spaces in the music.
It is a real treat to listen to the'74 sound as it develops over these couple weeks in concert with the Wall of Sound. Limited Edition - 7500 Copies. Remastered by Jeffrey Norman from The Original Analog Master Reel-To-Reel Recording. Beat It On Down The Line. It Must Have Been The Roses.
Goin' Down The Road Feeling Bad. The Grateful SHRINE EXPOSITION HALL Limited edition TO 6700 COPIES ON THREE AUDIOPHILE 180-gram LP set! Shrine Exposition Hall, Los Angeles, CA 11/10/1967.
Label: Rhino Records (2) R1-552660. Format: 3 x Vinyl, LP, Limited Edition. A1 Viola Lee Blues 15:58. A2 It Hurts Me Too 4:18. B1 Beat It On Down The Line 3:50.
B2 Morning Dew 7:39. B3 Good Morning Little Schoolgirl 10:55. C That's It For The Other One 12:04.
D1 New Potato Caboose 11:36. E2 Caution (Do Not Stop On Tracks) (Beginning) 4:15. F Caution (Do Not Stop on Tracks) (Conclusion) 20:31. Mixed By, Mastered By Jeffrey Norman. Limited edition of 6700 copies on 180-gram vinyl. Mixed and mastered from the 8-track analog master tapes. Live Performance at Fillmore Auditorium 11/19/66 On Vinyl LP! A recording of a cult event: The Grateful Dead, live at the Fillmore Auditorium on November 19th, 1966. Recorded before their first album came out (1967), this record features three primeval versions of tunes from their debut record and eight goodies, standards and originals, that were not featured on any official studio and live recording up to 1970's Workingman's Dead.
This recording brings you right there, on a magic night in November 1966, when psychedelic rock was still something fresh and exciting and the emerging hippie movement had not exploded yet. That came half a year later with the invasion of Haight-Ashbury. But these recordings are not only of historical importance, their musical value is amazing. The band smokes on stage throughout the performance.
The sound is muggy for sure, but each instrument comes through as it should and the simmering duels of guitar and organ make your head swirl. This album will certainly make the young generation of'60s music aficionados go crazy.
A new beautiful cover artwork and great overall sound quality restoration make this album a joyful experience... And be sure that something like the 17+ minute version of "In The Midnight Hour" will have rarely hit your turntable. The overall atmosphere is just haunting. The release is reminiscent of early Doors or Iron Butterfly live recordings.
A band at its prime with the world to gain and nothing to lose. He Was A Friend Of Mine. Live Dead Music On 180g Vinyl Double LP! Featuring "Estimated Prophet" From Cornell'77! Mastered From Original Analog Tapes By Grammy-Winning Engineer David Glasser!
The live albums the band released during its 30-year career are the primary source for the collection, with some performances selected from the growing number of live releases that have emerged since 1995. "We wanted to follow up the 2015 The Best Of The Grateful Dead studio set with a live counterpart, and have focused our efforts on the band's primary live albums as well as some key tracks from archival concert releases, ". Says band archivist and producer David Lemieux. Just as there was nothing like a Grateful Dead concert, there is also nothing like a live Grateful Dead recording; it's no secret that as good as the Dead's studio recordings were, they excelled in front of an audience, and this set provides an overview of just how great the Dead were live in concert. Follow Up To The 2015 "Best Of" Studio Release. Mastered from the original analog tapes by Grammy-winning engineer David Glasser. Compilation produced for release by David Lemieux. Stephen Fillmore West (2/27/69) from Live/Dead (1969). Bertha Fillmore East (4/27/71) from Grateful Dead (Skull & Roses) (1971). Wharf Rat Fillmore East (4/26/71) from Grateful Dead (Skull & Roses) (1971). Jack Straw Olympia Theatre (5/3/72) from Europe'72 (1972).
Truckin' Lyceum Theatre (5/26/72) from Europe'72 (1972). Sugar Magnolia Olympia Theatre (5/4/72) from Europe'72 (1972). Morning Dew Lyceum Theatre (5/26/72) from Europe'72 (1972).
Brown-Eyed Women Tivoli Concert Hall (4/14/72) from Europe'72 (1972). The Music Never Stopped Great American Music Hall (8/13/75), One From The Vault (1991). Estimated Prophet Barton Hall (5/8/77) from Cornell 5/8/77 2017.
Bob Dylan & The Grateful Dead Dylan & The Dead LP. Collaborative Live Recording On Vinyl LP!
30th Anniversary Of Legendary Tour! Collaborative album including Bob Dylan and The Grateful Dead contains live recordings from 1987 stadium tour for Dylan & The Dead. Songs include "Gotta Serve Somebody", "Slow Train", and "Knockin' On Heaven's Door". 30th Anniversary Reissue of legendary tour.
Knockin' On Heaven's Door. THESE FRIDAY MUSIC TITLES ARE BRAND NEW BUT DO NOT COME TRADITIONALLY SEALED WITH TIGHT PLASTIC WRAP.
THEY COME WITH A PLASTIC OPEN PROTECTIVE WRAP. 180g Audiophile Vinyl Triple LP!
Mastered by Friday Music's Joe Reagoso! Rolling Stone 2015 Readers' Poll: The 10 Best Jam Bands: The Grateful Dead Rated 1st! The legendary Bay Area rock superstars Grateful Dead scored with a plethora of wonderful recordings throughout their incredible career that encompassed four decades. Their concerts were of legendary proportions, and during their mammoth breakthrough years of the late sixties, a whole new audience was discovering their magic thanks to their inspiring concerts and musical acumen. As a new touring season began, the Dead celebrated with a very appreciative New York City audience at the Fillmore East. This masterful performance went on to become one of the most revered ever in their long concert history. Always known for being on top of the audiophile medium, the Dead would record a lot of their shows over the years with state of the art equipment.
This particular show was of no exception as long time Dead member/producer Phil Lesh and producer John Cutler teamed up with the definitive Dead archivist David Lemeiux and compiled the much celebrated Fillmore East 2-11-69. Friday Music is very pleased to announce the exclusive first time 180 Gram Audiophile 3LP Deluxe Set of the Grateful Dead? This amazing limited edition treasure trove features tunes from these historic concerts, both early and late shows. Filled with 17 stellar first time audiophile vinyl performances, The Grateful Dead? S Jerry Garcia, Bob Weir, Phil Lesh, Mickey Hart, Bill Kruetzmann, Ron McKernana and Tom Constanten truly radiate with some of their finest playing and singing ever, making this a wonderful listen and highly collectible album for years to come.
Many favorite Grateful Dead classics and superior rarities abound in this lengthy limited edition audiophile dream set including the long-awaited audiophile vinyl releases of St. S Diamond Blues and the superior jam of the Bobby Blue Bland classic Turn On Your Lovelight. Known for their lengthy jams, solid live masterpieces get their due on this amazing set like brilliant versions of Dark Star, The Other One, and The Eleven.
As an added super rare treat, a tip of the hat to The Beatles is preserved in the audiophile domain with their fine interpretation of Hey Jude as well as a pair of masterful blues classics with King Bee and Good Morning Little School Girl. Now for the first time ever as an exclusive 180 Gram Audiophile Vinyl 3LP Set, Friday Music is very honored to announce the limited edition Grateful Dead authorized release of Fillmore East 2-11-69. Mastered for vinyl by Joe Reagoso (Grateful Dead/Deep Purple/Yes) at Friday Music Studios and at Capitol Records, Hollywood, CA, featuring 2015 restored vault tapes by David Glasser, this wonderful album is sure to become a welcomed addition to your Dead collection. S Fillmore 2-11-69 album is packaged in a stunning tri-fold cover with artwork detailed beautifully, Gary Lambert?
S original liner notes, and with a poly lined LP sleeve to preserve the rich details of each of the three 180 Gram vinyl albums. Wonderful retro LP label artwork is also provided for each vinyl album. Mastered by Joe Reagoso at Friday Music Studios and Capitol Records in Hollywood, CA.
Good Morning Little School girl. I'm A King Bee. Caution (Do Not Stop on Tracks). The Grateful Dead BIRTH OF THE DEAD LIMITED EDITION 180 GRAM AUDIOPHILE 2 LP SET.
180-gram audiophile vinyl mastered by Friday Music's Joe Reagoso from the original analog tapes. Features rare band photos by Herb Greene exclusive to this LP! The legendary Bay area rock superstars the Grateful Dead scored for over four decades a plethora of wonderful recordings throughout their incredible career.
Spearheaded originally by the late great Jerry Garcia, Bob Weir, Phil Lesh, Bill Kruetzmann and the late Ron "Pigpen" McKernan, these five gentlemen set the world on fire with their magnificent artistry and musicianship unparalleled to this day. Over a decade ago, the Grateful Dead unearthed 14 super rare live recordings from the mid-'60s. None of these recordings were ever previously released at the time. Recorded in San Francisco from a July 1966 performance, when they were signed to the Scorpio Records label, this ultra-rare concert tape simply became manna for the fans and was truly a find for any collector of fine rock'n' roll and early psych and garage rock fare.
Newly remastered at Friday Music & Capitol Studios, this deluxe double LP set on 180-gram vinyl not only has the original 14 live performances unearthed by the Dead themselves, but it also includes, for the very first time anywhere, several unearthed early photos from the lens of the legendary Herb Greene. Dead fan favorite "Viola Lee Blues" kicks off the rare collection, and then the fireworks light up as future Grateful Dead classics like "Don't Ease Me In" and the stellar Jimmy Reed classic "Big Boss Man" truly become a very important and interesting listen to any fan of the Dead or classic rock in general. Known for their jams in concert, you will get to hear stellar takes on rare blues tracks like "One Kind Favor, " "Next Time You See Me" and of course their super rare Bob Dylan interpretation of "It's All Over Now Baby Blue, " which would be an interesting choice not knowing there would be future collaborations with Dylan in both of their important later careers. Even superlative covers of Otis Redding's "Pain In My Heart" and the Slim Harpo blues champion "I'm A King Bee" are included in this amazingly important and historic rock release from this much loved band. Greene's first-time issued photos show the very first sittings of the Grateful Dead and will make your listening hours that much more enjoyable as you stare at the brilliant pictures of your favorite rockers in this very special era.
Sitting on Top of the World. Its All Over Now, Baby Blue.
Next Time You See Me. He Was a Friend of Mine. PLUS A BOOKET OF GRATEFUL DEAD A TRIP WITHOUT A TICKET WITH A CD ENCLOSED OF LIVE AT WINTERLAND 12/31/1971. & TYPE IN GRATEFUL DEAD INTO THE SEARCH FIELD WITHIN OUR STORES SECTION AS YOUR PERSONAL CODE AND ALL INDIVIDUAL TITLES + INFORMATION WILL APPEAR. Collectors Alert : Many of these Vinyl Titles will never be available again.
This means that this specific title is now out of print forever and there are very few remaining is sealed condition. This title is going to skyrocket in value & price over the next few months. So Don't Miss Out on being one of the last people to own this outstanding pressing. This is one the last pressing you will ever see at this price.
The nicest thing you can do for your stylus and your ears. The ultimate record -- the way music was meant to be heard and of superior quality for any Audiophile. You should never pass up the opportunity to upgrade your collection. They're each very limited in their pressings and disappear with extraordinary quickness from the vinyl market. This causes prices to skyrocket because once they are gone, they are gone forever!
Don't second-guess yourself with this chance to upgrade your collection because before you know it, the opportunity will have passed forever. Mymusicfix has been told we have the best collection of Rare, Out of Print music collectibles on E-Bay. FACTORY SEALED OUT OF PRINT PRODUCT is IRREPLACEABLE and therefore NOT RETURNABLE. Because of Postal Regulations in following countries -- U. (England, Ireland, Wales and Scotland), SOUTH AMERICAN COUNTRIES, QATAR, PHILIPPINES, SRI LANKA, ISRAEL, RUSSIA, MEXICO and MALTA.
The item "GRATEFUL DEAD RARE 6 LP STRANGE TRIP BOX INDIVIDUALLY NUMBER+FILLMORE&MORE LIVE" is in sale since Wednesday, June 3, 2020. This item is in the category "Music\CDs". The seller is "mymusicfix2" and is located in Lake Forest, California. This item can be shipped worldwide.
Modified Item: No
Country/Region of Manufacture: United States
Custom Bundle: No
Style: Blues Rock
Duration: LP
Speed: 33 RPM
Record Size: 12"
Non-Domestic Product: No
Edition: Collector's Edition
Genre: Rock
Special Attributes: Vinyl